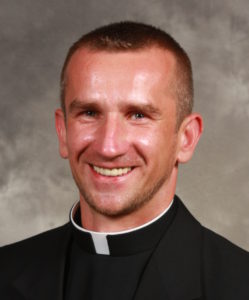 I want to take a moment to extend a very warm welcome to everyone who's visiting us for the first time. Whether you're just having a look, or are searching

out for a place to worship, we're delighted to have you here.
This weekend, July 21 and 22, we will take up a second collection to the Aid the Victims of the Condominium Fire in Prospect Heights.
Village of Prospect Heights is collecting new and used clothes as well as toiletries for those devastated by the fire. People who want to help are urged to drop off these items at the Prospect Heights Village Hall: 8 N. Elmhurst Rd 8 N Elmhurst Rd – M-F 8:30am -5pm or bring it to the parish and we will take care of the delivery.
Please keep the many people in Prospect Heights who now are without homes in your prayers.
W nadchodzący weekend – 21/22 lipiec – druga kolekta będzie zebrana na potrzeby rodzinom, które zostały dotknięte tragedią pożaru w Prospect Heights. Na dzień dzisiejszy potrzebne są najbardziej: ubrania – nowe i lekko
używane – i wszelkiego rodzaju produkty toaletowe. Rzeczy można dostarczyć do Prospect Heights Village Hall:
8 N Elmhurst Rd
(bardzo blisko Deli 4 You) od 8:30am do 5pm od poniedziałku do piątku lub do naszej parafii i my zajmiemy się dowozem. Nie zapominajmy również w naszych modlitwach o tych,
którzy stracili wszystko.
MASS TIMES
Saturday:
4:30pm
Sunday:
7:30am & 10:45am Polish
Weekdays:
9:00am Mass: Monday, Tuesday, Wednesday & Friday
Friday—7:00pm Mass in Polish
Parish Fax: 847-827-0370
PARISH OFFICE HOURS
Monday/Tuesday/Wednesday/
Friday
8:00am – 4:00pm
Thursday 8:00am – 2:00pm
Saturday Closed
Sunday Closed
PARISH PHONE NUMBER
PARISH E-MAIL: