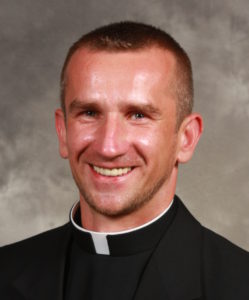 I want to take a moment to extend a very warm welcome to everyone who's visiting us for the first time. Whether you're just having a look, or are searching

out for a place to worship, we're delighted to have you here.
SUNDAY, AUGUST 19, 2018 – PARISH PICNIC
11am bilingual outdoor Mass

NO 10:45am or 12:30pm Mass
12-5pm picnic: great food, live entertainment, Bingo, kids games, soccer matches, raffles!
Fatima 101 Tour for Peace—International Pilgrim Virgin Statue
St. Thomas Becket is hosting the tour on Wednesday, September 12, 2018.
It will be an extraordinary occasion of healing, hope and grace. Please join us that day to hear the story of Fatima and venerate this beautiful statue that set out from Fatima in 1947 to bring the graces of Fatima to all who might not ever be able to make a pilgrimage to Fatima, Portugal.
September 12, 2018—The Feast of the Most Holy Name of Mary
9am – Mass in English
10-10:30am – Talk by Custodian
10:30am – 7pm Exposition of the Blessed Sacrament
3pm – Rosary in English – all mystries
5pm – Rosary in Polish – all mystries
5-6pm – Confessions
6:30pm – Litany to Our Lady (in Polish) and Benediction of the Blessed Sacrament
7pm – Mass in Polish
8pm – Departure
Church will be open all day for visit and prayer.
MASS TIMES
Saturday:
4:30pm
Sunday:
7:30am & 10:45am Polish
Weekdays:
9:00am Mass: Monday, Tuesday, Wednesday & Friday
Friday—7:00pm Mass in Polish
Parish Fax: 847-827-0370
PARISH OFFICE HOURS
Monday/Tuesday/Wednesday/
Friday
8:00am – 4:00pm
Thursday 8:00am – 2:00pm
Saturday Closed
Sunday Closed
PARISH PHONE NUMBER
PARISH E-MAIL: