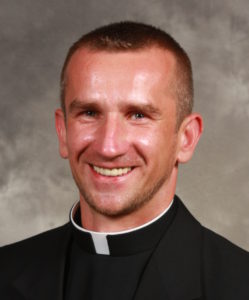 I want to take a moment to extend a very warm welcome to everyone who's visiting us for the first time. Whether you're just having a look, or are searching out for a place to worship, we're delighted to have you here.
FRIDAYS IN LENT:
PIĄTKI W WIELKIM POŚCIE:
9am—Mass in English – Msza Św. w jęz angielskim
9:30am—Stations of the Cross in English – Stacje Drogi Krzyżowej w jęz. angielskim
6:00pm– 6:45pm—Confessions – Spowiedź Św.
6:20pm—Stations of the Cross in Polish – Stacje Drogi Krzyżowej w jęz. polskim
7pm—Mass in Polish – Msza Św. w jęz polskim
7:30pm—Lamentations in Polish – Gorzkie Żale
REKOLEKCJE WIELKOPOSTNE W JĘZ. POLSKIM:
"Uzdrawiająca Moc Świętych" ks. Krzysztof Kulig
Niedziela, 26 marzec – Msza Św. o godz. 7:30am i 10:45am – POKORA
Pokora jest jak sznurek różańca, jeżeli sznurek się zerwie, paciorki się rozsypią; jeżeli zaniechamy pokory,
znikną wszystkie cnoty. (Św. Proboszcz z Ars)
Poniedziałek, 27 marzec o godz. 7pm—RADOŚĆ
Radość jest sercem duszy: oświetla tego, kto ją ma i ogrzewa wszystkich,
na których padają jej promienie. (Św. Jan od Krzyża)
Wtorek, 28 marzec o godz. 7pm—POKÓJ
Ci, którzy przyjdą po was, będą się na was inspirować. Wyzwanie pokoju jest
wielkie, ale jeszcze większa jest jego nagroda: istotnie angażując się dla pokoju,
odkryjecie coś lepszego dla was samych, jak też będziecie szukać czegoś lepszego dla innych.
Wy rośniecie, a wraz z wami rośnie pokój. (Jan Paweł II)
MASS TIMES
Saturday:
4:30pm
Sunday:
7:30am & 10:45am Polish
Weekdays:
9:00am Mass: Monday, Tuesday, Wednesday & Friday
Friday—7:00pm Mass in Polish
Parish Fax: 847-827-0370
PARISH OFFICE HOURS
Monday/Tuesday/Wednesday/
Friday
8:00am – 5:00pm
Thursday 8:00am – 2:00pm
Saturday 9:00am – 3:00pm
Sunday Closed
PARISH PHONE NUMBER
PARISH E-MAIL: