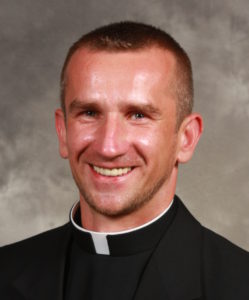 I want to take a moment to extend a very warm welcome to everyone who's visiting us for the first time. Whether you're just having a look, or are searching out for a place to worship, we're delighted to have you here.
ADVENT CONFESSIONS
Wednesday, December 20th from 6pm to -8pm
Spowiedź Św. w jęz. angielskim i polskim w naszej parafii
Środa, 20 grudzień od 6-8pm
St. Thomas Becket Parish Christmas Schedule 2017
Attending Christmas Eve Mass does NOT satisfy the 4th Sunday of Advent obligation.
Wzięcie udziału w popołudniowych Mszach Św—pasterka—NIE wypełnia obowiązku Mszy Św.
na 4-tą Niedziele Adwentu
Sunday, December 24 – 4th Sunday of Advent
7:30 A.M. [Polish] & 9:00 A.M.[ English]
Sunday, December 24—Christmas Eve
4:00 P.M. Family Mass [English]
10:00 P.M. Mass [English]
12:00 A.M. Mass [Polish]
Christmas Day – Monday, December 25
9:00 A.M. & 12:30 P.M. [English]
7:30 A.M. & 10:45 A.M. [Polish]
St. Stephen – December 26
9:00 A.M. [English]
7:00 P.M. [Polish]
Mary, Mother of God – January 1
Not a Holy Day of Obligation
Święto nie obowiązkowe
9:00 A.M. [English]
7:30 A.M. & 10:45 A.M. [Polish]
MASS TIMES
Saturday:
4:30pm
Sunday:
7:30am & 10:45am Polish
Weekdays:
9:00am Mass: Monday, Tuesday, Wednesday & Friday
Friday—7:00pm Mass in Polish
Parish Fax: 847-827-0370
PARISH OFFICE HOURS
Monday/Tuesday/Wednesday/
Friday
8:00am – 5:00pm
Thursday 8:00am – 2:00pm
Saturday 9:00am – 3:00pm
Sunday Closed
PARISH PHONE NUMBER
PARISH E-MAIL: