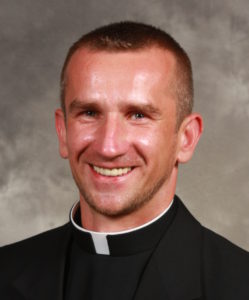 I want to take a moment to extend a very warm welcome to everyone who's visiting us for the first time. Whether you're just having a look, or are searching
out for a place to worship, we're delighted to have you here.
LENT / EASTER 2019 – WIELKI POST / WIELKANOC
HOLY THURSDAY: WIELKI CZWARTEK

April 18, 2019
7:30pm – Mass (Bilingual) Dwujęzyczna Msza Św.
After Mass – Adoration until 12am Adoracja do północy
11:45pm – Night Prayer Modlitwa Nocna
GOOD FRIDAY: WIELKI PIĄTEK April 19, 2019
9:00am – Morning Prayer (English) Modlitwa Poranna w jęz. angielskim
12:00 noon – Stations of the Cross (Bilingual) Droga Krzyżowa – dwujęzyczna
3:00pm – The Lord's Passion (English) Męka Pańska w jęz. angielskim
5:00pm – The Lord's Passion (Bilingual) Męka Pańska – dwujęzyczna
7:30pm – The Lord's Passion (Polish) Męka Pańska w jęz. polskim
HOLY SATURDAY: WIELKA SOBOTA April 20, 2019
11am & 12pm & 1pm – Blessing of Easter Baskets Święcenie Pokarmów
7:30pm – Easter Vigil (Bilingual) Wigilia Wielkiej Nocy – dwujęzyczna
EASTER SUNDAY: NIEDZIELA ZMARTWYCHWSTANIA PAŃSKIEGO

April 21, 2019
9:00am & 12:30pm (English)
5:30am & 7:30am & 10:45am (Polish)
EASTER MONDAY: PONIEDZIAŁEK WIELKANOCNY April 22, 2019
9:00am – Mass (English) 7:00pm – Mass (Polish)
ST. THOMAS BECKET INVITES YOU TO JOIN US ON A WALKING PILGRIMAGE:
FROM JOSEPH TO MARY TO JESUS
From the National Shrine of St. Joseph at Old St. Joseph Church on the campus of St. Norbert College in De Pere, WI to the National Shrine of Our Lady of Good Help in Champion, WI. The Walk to Mary winds approximately 21 miles from De Pere, WI, along the banks of the Fox River and the Niagara Escarpment to the town of Champion, WI. This one-of-a-kind Pilgrimage proves to be a physical and spiritual test in perseverance for nearly everyone. The route has been customized into segments to suit your comfort and ability. You can easily join-in at any join-in point along the way. Please see their webpage for complete details at: walktomary.com.
Questions and registration through parish office:
Mariusz at: 847-293-6603, ema
il: mariusz@taxpol.net
or Liz at the parish office: 847-827-9220.
Saturday, May 4, 2019 3:00 am—depart from St. Thomas Becket 7:00 am—arrive at National Shrine of St. Joseph 12:15 pm—lunch break 6:00 pm—depart from Shrine of Our Lady of Good Help 9:30 pm—arrive at St. Thomas Becket Fee of $75 per person includes coach bus, registration fee and a sandwich style lunch.
MASS TIMES
Saturday:
4:30pm
Sunday:
7:30am & 10:45am Polish
Weekdays:
9:00am Mass: Monday, Tuesday, Wednesday & Friday
Friday—7:00pm Mass in Polish
Parish Fax: 847-827-0370
PARISH OFFICE HOURS
Monday/Tuesday/Wednesday/
Friday
8:00am – 4:00pm
Thursday 8:00am – 2:00pm
Saturday Closed
Sunday Closed
PARISH PHONE NUMBER
PARISH E-MAIL: