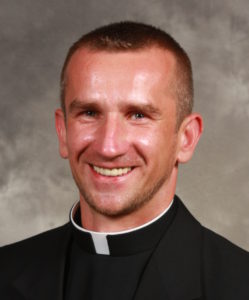 I want to take a moment to extend a very warm welcome to everyone who's visiting us for the first time. Whether you're just having a look, or are searching

out for a place to worship, we're delighted to have you here.
CORPUS CHRISTI (Latin for Body of Christ) — JUNE 3
This year, once again, in a very special way our parish will celebrate this Feast. Everyone is invited to participate in a bilingual Mass at 11:00am and then a procession to the four altars that will be erected
around our church for that day.
All First Communion children, children and adults in traditional regional costumes are strongly encouraged to participate, all are welcome. Please note that the 11:00am bilingual Mass will be INSTEAD OF the 10:45am and 12:30pm Masses.
Uroczystość Najświętszego Ciała i Krwi Chystusa przypada w tym roku w niedzielę 3-go czerwca.
W tym roku ponownie zapraszamy na przeżycie tego święta w bardzo specjalny i uroczysty sposób.
Rozpoczniemy dwujęzyczną Mszą Św. o godz 11:00am po czym procesja do czterech ołtarzy wokół kościoła.
Serdecznie zapraszmy wszystkie dzieci pierwszo-komunijne, dziewczęta i chłopców z koszyczkami kwiatów
do sypania i z dzwoneczkami. Dorosłych również zachęcamy do ubrania się w stroje regionalne i do wzięcia udziału w tej pięknej tradycyjnej procesji.
UWAGA—ze względu na Msze Św. o godz. 11:00am

NIE będzie Mszy o godz. 10:45am i o 12:30pm w niedzielę 3-go czerwca

.
MASS TIMES
Saturday:
4:30pm
Sunday:
7:30am & 10:45am Polish
Weekdays:
9:00am Mass: Monday, Tuesday, Wednesday & Friday
Friday—7:00pm Mass in Polish
Parish Fax: 847-827-0370
PARISH OFFICE HOURS
Monday/Tuesday/Wednesday/
Friday
8:00am – 4:00pm
Thursday 8:00am – 2:00pm
Saturday Closed
Sunday Closed
PARISH PHONE NUMBER
PARISH E-MAIL: