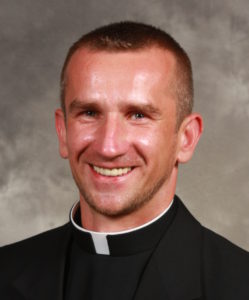 I want to take a moment to extend a very warm welcome to everyone who's visiting us for the first time. Whether you're just having a look, or are searching
out for a place to worship, we're delighted to have you here.
LENT / EASTER 2019 – WIELKI POST / WIELKANOC
FRIDAYS IN LENT: PIĄTKI W WIELKIM POŚCIE:
Confessions/Spowiedź Św: 6:15pm to 6:45pm
Stations of the Cross in English after the 9am Mass: March 8, 15, 22, 29, April 5, 12
Stacje Drogi Krzyżowej w jęz. polskim o godz. 6:20pm: Marzec 8, 15, 22, 29, kwiecień 5
Mass in Polish/Msza Św. w jęz. polskim – 7pm Lamentations in Polish / Gorzkie Żale: po Mszy Św. o godz. 7pm
WEEKDAY MASSES: CODZIENNE MSZE ŚW: Monday, Tuesday, Wednesday, Friday – 9am (English)
Friday – 7pm (Polish) Msza Św. w jęz. polskim – piątek o godz. 7pm
Codzienna Msza Św. w jęz. angielskim o godz. 9am – poniedziałek, wtorek, środa i piątek
CONFESSIONS: SPOWIEDŹ ŚW.
Multi-Parish Reconciliation Service: Monday, April 8 @ 7pm St. Raymond parish
8 kwiecień w jęz. angielskim i polskim o godz. 7pm – parafia Św. Raymonda
Friday, April 12 – 6pm to 8pm piątek, 12 kwiecień od 6pm do 8pm
NIE będzie Mszy Św. o godz. 7pm w piątek 12-go kwietnia
NO confessions on Saturday, April 13
PALM SUNDAY: NIEDZIELA PALMOWA

April 14, 2019
Saturday: April 13 –
4:30pm (English)
Sunday: April 14 – 9:00am & 12:30pm (English) 7:30am & 10:45am (Polish)
HOLY THURSDAY: WIELKI CZWARTEK

April 18, 2019
7:30pm – Mass (Bilingual) Dwujęzyczna Msza Św.
After Mass – Adoration until 12am Adoracja do północy
11:45pm – Night Prayer Modlitwa Nocna
GOOD FRIDAY: WIELKI PIĄTEK April 19, 2019
9:00am – Morning Prayer (English) Modlitwa Poranna w jęz. angielskim
12:00 noon – Stations of the Cross (Bilingual) Droga Krzyżowa – dwujęzyczna
3:00pm – The Lord's Passion (English) Męka Pańska w jęz. angielskim
5:00pm – The Lord's Passion (Bilingual) Męka Pańska – dwujęzyczna
7:30pm – The Lord's Passion (Polish) Męka Pańska w jęz. polskim
HOLY SATURDAY: WIELKA SOBOTA April 20, 2019
11am & 12pm & 1pm – Blessing of Easter Baskets Święcenie Pokarmów
7:30pm – Easter Vigil (Bilingual) Wigilia Wielkiej Nocy – dwujęzyczna
EASTER SUNDAY: NIEDZIELA ZMARTWYCHWSTANIA PAŃSKIEGO

April 21, 2019
9:00am & 12:30pm (English)
5:30am & 7:30am & 10:45am (Polish)
EASTER MONDAY: PONIEDZIAŁEK WIELKANOCNY April 22, 2019
9:00am – Mass (English) 7:00pm – Mass (Polish)
MASS TIMES
Saturday:
4:30pm
Sunday:
7:30am & 10:45am Polish
Weekdays:
9:00am Mass: Monday, Tuesday, Wednesday & Friday
Friday—7:00pm Mass in Polish
Parish Fax: 847-827-0370
PARISH OFFICE HOURS
Monday/Tuesday/Wednesday/
Friday
8:00am – 4:00pm
Thursday 8:00am – 2:00pm
Saturday Closed
Sunday Closed
PARISH PHONE NUMBER
PARISH E-MAIL: