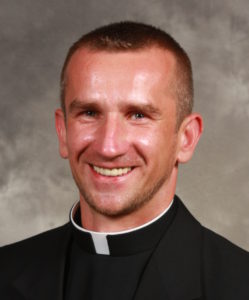 I want to take a moment to extend a very warm welcome to everyone who's visiting us for the first time. Whether you're just having a look, or are searching

out for a place to worship, we're delighted to have you here.
Community Shred Day, sponsored by State Representative of 57th District,
Jonathan Carroll, is coming to St. Thomas Becket on Saturday, July 14th from 8am to 11am.
SAVE THE DATE – Sunday, August 19, 2018 12:00pm – 5:00pm
St. Thomas Becket Parish Picnic and Craft Fair!
CRAFTERS and ADVERTISERS WANTED!
All crafters and businesses are invited to sell their products
or to promote their businesses!
More info: emika@stbmp.org – 847-827-9220 or see our bulletin.
MASS TIMES
Saturday:
4:30pm
Sunday:
7:30am & 10:45am Polish
Weekdays:
9:00am Mass: Monday, Tuesday, Wednesday & Friday
Friday—7:00pm Mass in Polish
Parish Fax: 847-827-0370
PARISH OFFICE HOURS
Monday/Tuesday/Wednesday/
Friday
8:00am – 4:00pm
Thursday 8:00am – 2:00pm
Saturday Closed
Sunday Closed
PARISH PHONE NUMBER
PARISH E-MAIL: