W

elcome and warmest greetings to you!
I want to take this opportunity to personally welcome you to this faith community of St. Thomas Becket. You have joined a community that seeks to live its faith in the Spirit of Jesus Christ.
This parish actively seeks to live a baptismal life by centering itself on gospel values and uniting ourselves around the Lord's Table of sacrifice and thanksgiving. Your presence is a blessing to our community, and it is a well-founded hope we can mutually grow together.
We are here to serve you and grow together in faith, hope and love. May your prayers and service in this holy place ground your life in God, the Source of all blessing in the years to come. Amen.
Sincerely, Rev. Chris Kulig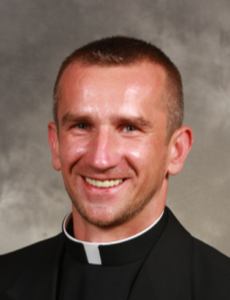 FAREWELL TO FR. CHRIS
On the weekend of June 17/18, after each Mass, all are invited
to stop by in the hall to thank and say goodbye to Fr. Chris.
POŻEGNANIE KS. KRZYSZTOFA
Weekend 17/18 czerwiec, po każdej Mszy Św, zapraszamy do sali parafialnej
aby podziękować i pożegnać Ks. Krzysztofa.
PARISH UNIFICATION
in Response to the Illinois Attorney General Report
May 23,2023
Parish Address:
1321 N Burning Bush Ln
Mount Prospect, IL 60056
Tel: 847-827-9220
Parish Fax: 847-827-0370