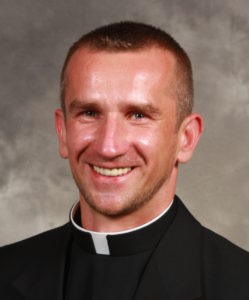 IMPORTANT INFORMATION FOR THE UPCOMING WEEK – March 21, 2020
Dear Parishioners,
Governor Pritzker announced the mandatory closure of all Illinois public facilities.
THE CHURCH WILL BE CLOSED FROM SATURDAY, MARCH 21st FROM 5PM TO APRIL 7th.
Holy Mass will be broadcast from our parish on Facebook:
Monday – Friday: 12pm in English Friday – 7pm in Polish
Saturday – 4pm in English Sunday – 11am in Polish
Please remember that during live streaming of the above listed Masses, the church will be closed, without faithful in attendance as per the recommendations of the Archdiocese and Illinois Health Department –
NO public gathering – no exceptions. Every day I will celebrate Holy Mass for the parish and the intentions already ordered. You can still call: 847-827-9220 or by email: emika@stbmp.org to place new intentions.
The parish office will be closed. In case of emergency please leave a message.
The Archdiocese of Chicago also made the following decision:
PALM SUNDAY and HOLY WEEK, including EASTER SUNDAY and all liturgies after EASTER,
will not be publicly celebrated until further notice.
I am aware of the difficulties we must live with. I would like to thank you all for your continuous generosity, which I could always count on. Today I am asking you to continue the financial support of our parish.
As you know, no parish can function without your donations. Please send your Sunday contributions by post office to the following address: 1321 N. Burning Bush Ln Mount Prospect, IL 60056
or sign up for electronic donations: www.stthomasbecketmp.org and clicking on GIVECENTRAL,
or by sending a text to: 847-243-6184 with the message: DONATE.
The situation changes from hour to hour. Therefore, please check our website frequently www.stthomasbecketmp.org or St. Thomas Becket Facebook.
I am asking you to understand the current situation and take care of myself and other people and stay at home in private prayer. I entrust to you all God's providences in my prayers.
Rev. Chris Kulig – Pastor
St. Thomas Becket – pray for us
***************************************************************************************************
WAŻNE INFORMACJE NA BIEŻĄCY TYDZIEŃ – Marzec 21, 2020
Drodzy Parafianie,
Gubernator Pritzker ogłosił obowiązkowe zamknięcie wszystkich placówek publicznego użytku w stanie Illinois.
Kościół będzie zamknięty od soboty, 21 marca od 5pm do 7 kwietnia.
Msza Św. będzie transmitowana z naszej parafii na Facebooku:
Poniedziałek – Piątek: 12pm w jęz angielskim Piątek – 7pm w jęz polskim
Sobota – 4pm w jęz angielskim Niedziela – 11am w jęz polskim
Proszę pamiętać, że podczas Mszy Św. transitowanych na żywo kościół będzie zamknięty,
bez udziału wiernych według zaleceń archidiecezji i biura zdrowotnego stanu Illinois
o NIE gromadzeniu się publicznym.
W każdy dzień, będę odprawiał Msze Św. w intencji parafii i oraz zamówionych już intencji. Nadal można zamawiać intencje telefonicznie: 847-827-9220 lub przez email: emika@stbmp.org.
Biuro parafialne będzie nieczynne. W nagłych przypadkach proszę zostawić wiadomość.
Archidiecezja Chicago podjęła również następującą decyzję:
NIEDZIELA PALMOWA i WIELKI TYGODZIEŃ, w tym NIEDZIELA WIELKANOCNA i wszystkie liturgie po WIELKANOCY, nie będą celebrowane publicznie aż do odwołania.
Jestem świadomy z jakimi trudnościomi przyszło nam żyć. Pragnę podziękować Wam wszystkim za Waszą ciągłą hojność, na którą zawsze mogłem liczyć. Dzisiaj zwracam się z prośbą o kontynuowanie wsparcia finansowego naszej parafii. Jak wiecie, bez Waszych donacji, żadna parafia nie jest w stanie funkcjonować. Bardzo proszę o przesłanie swoich niedzielnych składek pocztą na adres: 1321 N. Burning Bush Ln Mount Prospect, IL 60056 lub zapisanie się na donacje drogą elektroniczną: www.stthomasbecketmp.org i klikając na GIVECENTRAL,
lub wysyłając text na nr: 847-243-6184 z wiadomością: DONATE.
Systuacja zmienia się z godziny na godzinę, dlatego proszę często sprawdzać naszą stronę internetową www.stthomasbecketmp.org lub St. Thomas Becket Facebook.
Bardzo proszę o zrozumienie obecnej sytuacji i zadbanie o siebie i bliźnich i o pozostanie w domu
na prywatnej modlitwie. Polecam Was wszyskich opatrzności Bożej w moich modlitwach.
Św. Tomaszu Bekecie – módl się za nami.
"Święty Boże, Święty Mocny… Od powietrza, głodu, ognia i wojny, zachowaj nas Panie".
Ks. Krzysztof Kulig
Proboszcz
MASS TIMES
Saturday:
4:30pm
Sunday:
7:30am & 10:45am Polish
Weekdays:
9:00am Mass: Monday, Tuesday, Wednesday & Friday
Friday—7:00pm Mass in Polish
Parish Fax: 847-827-0370
PARISH OFFICE HOURS
Monday/Tuesday/Wednesday/
Friday
8:00am – 4:00pm
Thursday 8:00am – 2:00pm
Saturday Closed
Sunday Closed
PARISH PHONE NUMBER
PARISH E-MAIL: